The Sweetest Scents You Can Wear to School ...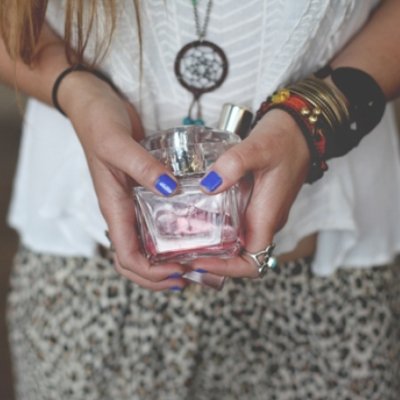 For school you don't want a heavy cloying perfume that is a pervasive miasma in a crowded lecture hall. You want a delicious scent that your schoolmates will be thankful is filling up the hallways! Your perfume should say "hey this is me" as well as smell fabulous. Like these:
1.

Tommy Girl – Tommy Hilfiger
With notes of heather and sandalwood that are warm and refreshing at the same time, it's great for some daytime sophistication.
Buy at amazon.com
Wear this if you are independent and playful. It has a flirty and adventurous vibe with overtones of the sweetest cupcake in the bakery.

Buy at amazon.com
3.

Infinite Pleasure – Just Girl – Estelle Vendome
A great in-between scent, fruity enough for a fun day at school but still with a few musky undertones that show you are more of an adult than a child.

Buy at amazon.com
4.

Live Colorfully – Kate Spade
Citrus and florals open this sweet scent, but a lingering hint of musk stays with you long after the top notes have dissipated.

Buy at sephora.com
5.

Unpredictable Girl – Glenn Perri
This scent is really light hearted, a great choice for a carefree teenager. It's very sweet with notes of vanilla, jasmine, cedar wood and frangipani and a dash of neroli essential oils.

Buy at amazon.com
6.

Citrine Blossom – Coach
A spritz of this zesty scent will get your mornings off to an invigorating start.

Buy at amazon.com
7.

Avon – Bond Girl Forever
Indulge in a little bit of sultriness at school without taking it too far. Feels light and appropriate for school due to its overriding fruity citrus tone.

Buy at amazon.com
8.

Fantasy – Britney Spears
Feminine and invigorating, Fantasy is a fun and lively fragrance for daytime.

Buy at amazon.com
9.

Hello Kitty Wild Thing Roller Girl
Coming in a beautiful and quirkily designed bottle, this one is perfect for younger teenagers who want to experiment with trying scents that are linked to a brand that they know and love.

Buy at amazon.com
10.

Pour Femme – Dolce and Gabbana
This mix of raspberry, orange blossom, vanilla, and sandalwood has a little something for everyone.

Buy at sephora.com
11.

L'eau De Toilette – Carven
Are you modern? Feminine? Unusual or unconventional? Carven's soft fresh scent was made for you.

Buy at sephora.com
12.

Taylor by Taylor Swift
The pop star has created a wonderfully refreshing scent with both floral and fruity notes that will keep you smelling fragrant all day long.

Buy at amazon.com
13.

Euphoria Forbidden – Calvin Klein
An amazing and flirty fragrance that is sure to turn some heads in the corridors and classrooms.

Buy at amazon.com
14.

Peony and Blush Suede Cologne - Jo Malone
Peonies, red apple, jasmine, and rose make this perfume the perfect daytime go-to.

Buy at amazon.com
Guess Girl is a really high quality perfume for young girls that I am sure a few older girls like to wear as well!

Buy at amazon.com
This is a great choice if you want the depth of a musky perfume without the heaviness. Musky but fresh and floral too.

Buy at sephora.com
17.

Killer Queen – Katy Perry
Despite the regal looking scepter-shaped bottle, Killer Queen is all about the florals.

Buy at amazon.com
What's your favorite teenage scent – past or present ? (Let's hear from older ladies about their teen years favorites)
{{#comments_count}} Show Commnents ({{comments_count}}) {{/comments_count}}